Spaces

Historic Alameda Elks Lodge No. 1015
The Alameda Lodge is located in the Park Street Business District of Alameda, less than 2 miles from Interstate 880, at 2255 Santa Clara Avenue. City Hall is next door to us!  Come find out why the Alameda Elks Lodge is "The Liveliest Lodge in Elkdom", as we celebrate our 110th year as part of the B.P.O.E.
Ballroom / Meeting Room / Theater
Our Lodge Meeting Room can be used in many ways.
With a Seating Capacity of over 550, this room would be perfect for any stage event (i.e. community theater, awards ceremony or movie night).
Any planned event that includes a meal with a guest list of up to 260 people can easily be accommodated here as well.
Foyer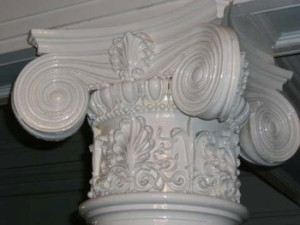 The Main Level Foyer can hold 150 guests seated classroom style or 100 seated for a meal at tables.
Hand carved Corinthian capitals are visible throughout this space.
Rathskellar & Bar

Our lower level can easily hold groups up to 225 seated guests for a meeting or awards presentation. The seating capacity for events serving a meal tops out at roughly 150 people.
The stage area can accommodate bands with up to 5-6 musicians, a DJ sound system or karaoke for your party needs.
We held the ribbon cutting ceremony on August 11th to celebrate the opening of our newly renovated Rathskellar. The rich look of mahohany has been extended throughout the room. A completely new lighting system has been installed as well. A computer/TV projection system with an 8′ drop down screen, new ceiling and refurbished hardwood floors round out the project. The Rathskellar includes a full service bar area for all your beverage needs.