We are so excited for our 2nd Annual Car Show and Chili Cook-off to be held Sat. Aug. 12 from 10 am-3 pm!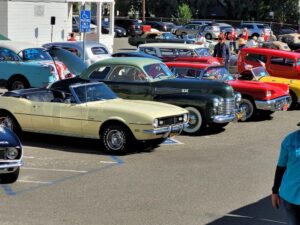 Bringing back the Car Show to the Lodge last year proved a huge success! We had a great array of cars, and all the food tickets sold out, so plan ahead, because this year will be even better!
But, the show can't happen without cars or chili! So, rev up your pots and pans, polish the Pontiac, and register now!
To register for the Chili Cook-off, you need to email the Chili Captain, Steve George. It's $20 to register and the slate is limited to 12 entries. This means you need to do this quickly as it's first-come, first-cook! The captain will send you the chili entry rules and regulations and then you can start testing your recipes for the big day. There will be official judges looking keenly at your chili craftsmanship in various categories, but there's also going to be a People's Choice Award. Put your best beef and beans forward and let our taste buds judge!
The big car showcase starts and ends with the best shining examples of vintage, hotrods, or other creative vehicular works of art. To register your "baby", you can go to this link and do it all online, or, you can download this handy pdf and send it back according to the instructions, or contact our official "Car Guys" by calling Terry Harrison at 510-710-4696 or Al Hugger at 510-393-6322. It's $30 per car and they'll give you all the info you need on where, when, and how to show off your ride.
Ready to feast your eyes on gorgeous vintage cars and hotrods and feast on Chili? Checking out the show is FREE and OPEN TO THE PUBLIC!
Chili-tasting, hot dog-eating will set you back a mere $20. Includes SODA! And CHIPS! Don't want chili? It's just $10 for the basic hotdog, chip, and soda pack. Just want to see cars, that's FREE!

There will be some other surprises and we'll tell you more as details emerge so WATCH THIS SPACE!
Awards for Winners will be: 
People's Choice Car, $100
People's Choice Chili, $100
Official Expertly Determined as the "Real Deal" Chili, $100
This charity event is open to the general public and all proceeds will directly benefit our Elks Charity Fund, which we use to give directly back to the community for programs for kids, our schools, Veterans, and more. Come have some fun and help us make some money to give back!