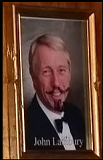 Posted on April 5, 2016 by Elks Admin in Uncategorized.

If you're a member of the Lodge's Facebook community, by now you've probably seen our post last Friday. We announce that the Lodge had been vandalized and that authorities had been notified. When visitors clicked on the post, they arrived at this April Fools message. We had a lot of laughs and fun. More […]

No Comments. Continue Reading...