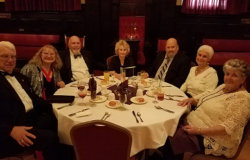 Posted on April 9, 2017 by Elks Admin in Uncategorized.

We had a wonderful celebrate of the installation of our new Officers at our 2017 Inaugural Ball last Saturday. We welcomed our Officers, Members and Distinguished Guests from other Lodges. The Lodge looked beautiful, decked out in purple with many references to Lee's Ironworking ways. After posing for pictures at the Champagne reception, we moved […]

No Comments. Continue Reading...