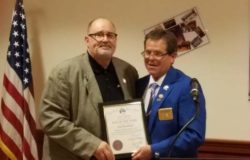 Posted on March 26, 2018 by Elks Admin in Uncategorized.

We all gathered last Friday night to thank Exalted Ruler Lee Watson and First Lady Heather for their wonderful year of service to Alameda Elks Lodge 1015. We enjoyed a sumptuous dinner followed by toasts, stories, jokes, laughter and, most of all, gratitude to ER Lee for all his efforts this past year. Exalted Ruler […]

No Comments. Continue Reading...