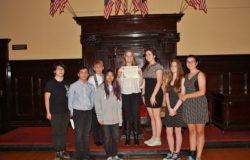 Posted on November 19, 2017 by Elks Admin in Uncategorized.

On November 14, with the aid of our current Elks Officers and PERs we carried out our Installation  of new Antler officers, Elissa Glick (President); Michaela Vawter (First Vice President) and Christian Baca (Chaplain) and initiated three new Antlers, Celine Wong, VIvi Hatcher and Grace  Goodsell (not pictured).  Also in attendance are Justin Cavalli and Shannon Vawter and a […]

No Comments. Continue Reading...