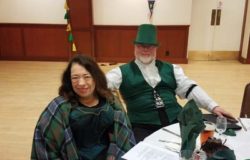 Posted on March 18, 2018 by Elks Admin in Uncategorized.

We put on our green colors and big smiles for our Annual St Patrick's Day celebration last Saturday. Jay & Fran led the sing-a-long and James and Cathleen led the Irish Dancing. We shared a wonderful meal together and we learned that all Elks look better in green!

Continue Reading... No Comments.