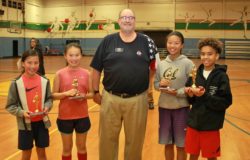 Posted on January 8, 2018 by Elks Admin in Uncategorized.

We had so much fun watching so many talented children compete last Friday night at the Annual Hoopshoot Competition sponsored by the Alameda Elks. Children compete in three categories and go through several rounds of competition as they show off their free throw shooting prowess. The kids all had a great time . . . […]

Continue Reading... No Comments.