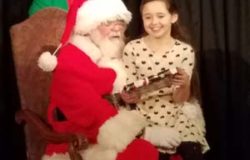 Posted on December 17, 2017 by Elks Admin in Uncategorized.

Oh boy! All the kids had fun at our annual Lodge Christmas party for kids. There was face painting, balloon animals and gingerbread house building. Donna Marie Ferro read to the kids from her book. The kids had lunch with hot dogs, macaroni and cookies. AND THEN . . . SANTA CLAUS CAME! Every child […]

Continue Reading... No Comments.