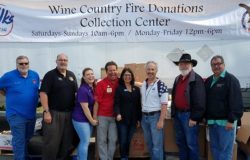 Posted on October 30, 2017 by Elks Admin in Uncategorized.

All of Alameda came together yesterday and last week to raise money and gather donations for the victims of the fires in Wine Country. Many Alameda organizations such as the Eagles, Elks, Kiwanis, Rotary, Alameda Fire Dept, Alameda Police Department and our Mayor Trish Spencer came together to organize a week long event of donations, […]

Continue Reading... No Comments.