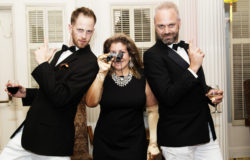 Posted on September 19, 2017 by Elks Admin in Uncategorized.

Something was shaking because we were stirring it up on the dance floor last Saturday night. We had a James Bond themed, Shaken, Not Stirred Charity Night Ball to raise money for our annual charities. We had wonderful appetizers and champagne as we danced and tried our hand at casino games of chance. A good […]

Continue Reading... No Comments.