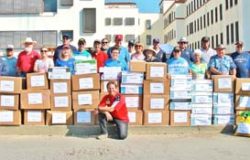 Posted on August 21, 2017 by Elks Admin in Uncategorized.

For our 36th consecutive year, the Alameda Elks traveled up to the California Veteran's Home in Yountville, to donate personal items and cook a picnic lunch for the Veterans. This is always one of our most important annual events. Last year, we were named the Volunteer Organization of the Year by the California Veterans Home. […]

Continue Reading... No Comments.