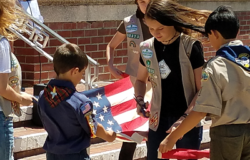 Posted on June 12, 2017 by Elks Admin in Uncategorized.

We celebrated Flag Day this past Sunday at the Alameda Elks Lodge. We began, as we always do, with an official Flag Retirement ceremony, performed by our local Scout troops. As is the tradition, we cut each strip from the flag, named for the original 13 colonies, and burned them before burning the blue field, […]

Continue Reading... No Comments.