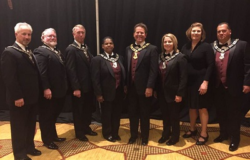 Posted on May 21, 2017 by Elks Admin in Uncategorized.

It's been such a long, wonderful road to this year's State Ritual Competition. We began practicing every week, dating back from January. This week, our Ritual Team, Coaches and fans went down to Palm Springs for the State Competition We won 3rd Place in the State out of 171 Elks Lodges! Congratulations to our Team […]

Continue Reading... No Comments.