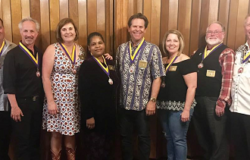 Posted on April 30, 2017 by Elks Admin in Uncategorized.

After so many months of work and so many nights of practice, our Officer team won the Bay District Elks Ritual competition for the 15th year in a row. If you haven't heard already. here's the complete break-down: 1st for Chaplain1st for Inner Guard1st for Lecturing Knight 1st for Loyal Knight 1st Leading Knight 1st […]

Continue Reading... No Comments.