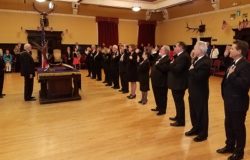 Posted on March 26, 2017 by Elks Admin in Uncategorized.

We celebrated the Installation of our slate of Officers for the 2017 Lodge year on Sunday. Like all Lodges at this time of year, we thank our outgoing Officers and we welcome the Officers moving into new positions to help move the Lodge forward. For many, this day represents the pinnacle of years of work […]

Continue Reading... No Comments.