Happy 149th Birthday Elks!
Some history . . .
On this day 149 years ago, the name "Benevolent and Protective Order of Elks"  was chosen by a committee viewing an Elk head at Barnum's Museum in New York City.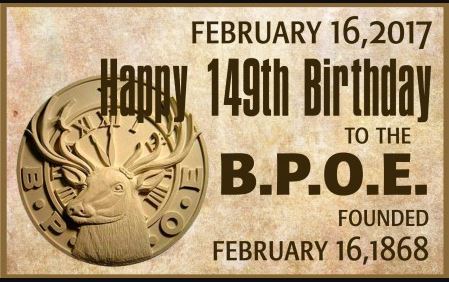 On Feb. 12, 1871, Claude Goldie received a New York State Charter for the B.P.O.E.'s New York Lodge No. 1, and the first Grand Lodge meeting was called to order at 4:15 PM at 114-116 East 13th St. in New York City. In 1874 the B.P.O.E. instituted the position of District Deputy Grand Exalted Ruler.
On May 31, 1889, the tragic Johnstown Flood killed 2000 people, and the B.P.O.E. began its tradition of helping American citizens with a donation of thousands of dollars for relief.
On July 5, 1903, the present Elks emblem was adopted and three years later, on March 17th, Alameda Elks Lodge No. 1015 was founded.  One month later, on April 18, 1906, the Great San Francisco Earthquake took place.  Immediately following the earthquake, members of Alameda Elks set up a tent city for arriving families from SF on open land located at the cross streets of San Jose, Park Street and Oak Street.  Members provided medical and dental services, daily meals, made sure all school age children were enrolled in classes and assisted in finding employment for all able bodied persons in the community.  The Alameda Elks helped more than 5,000 people after the earthquake and, because of their generosity and the community's welcoming spirit, more than 60% of that number remained and became residents of Alameda.
Our historic tradition of charity and community service continues today . . . 
Last year alone, the Elks donated approximately $283 million in cash, gifts and time to make our communities better places to live. The Elks are one of the premier patriotic and charitable organizations in the United States of America.
Elks volunteers will visit thousands of hospitalized Veterans who have protected our freedoms. The Elks vow, "So long as there are Veterans, the Benevolent and Protective Order of Elks will never forget them." The Elks support both active military forces and retired veterans. Elks furnish food, comfort care items, therapeutic items and gifts, host holiday celebrations and recreational activities at bases and hospitals, and stand ready to fulfill any need when called upon. Last year alone, the value of Elks' contributions to the nation's heroes provided more than $32 million to more than 300 Veterans Administration Medical Centers, clinics, and state care facilities. The Elks have entered into a partnership with VHA to support efforts to rescue homeless Veterans in their communities. To this end, the Elks have pledged $4 million dollars to help end Veteran Homelessness.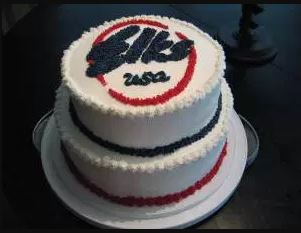 Annually, the Elks award college scholarships across the nation totaling more than $4 million. The Elks' Community Investments Program [CIP] will award nearly $10 million towards enriching our communities.
There are more than 1,900 Elks Lodges across the country with a total membership nearing 800,000.
Happy Birthday Elks!