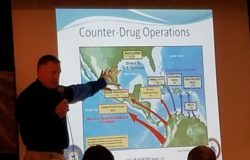 Posted on December 12, 2016 by Elks Admin in Uncategorized.

We were honored yesterday to welcome Capt. James Passarelli, commanding officer of the USCGC Waesche and his crew at our monthly Facility Breakfast. Captain Passarelli told the dramatic story of how the crew of the Waesche recently interdicted a $73MM shipment of cocaine off the coast of Central America. This is the stuff you see in […]

Continue Reading... No Comments.