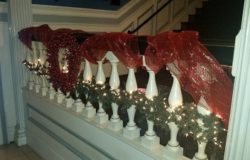 Posted on November 28, 2016 by Elks Admin in Uncategorized.

Some of Santa's Elves gathered, last Saturday, to decorate the Lodge for the holidays. We unpacked boxes; put up trees; hang lights and had a great time. It was a wonderful time for the married men to get yelled at by several wives at one time. See our handiwork below or, better yet, come […]

Continue Reading... No Comments.