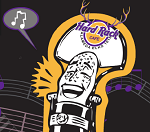 Posted on July 25, 2016 by Elks Admin in Uncategorized.

We had a great time at Hard Rack Karaoke last night. We raised over $280 for charity. There was no flat notes or beers served the entire night. This could have been you. Save your energy for next month because we're presenting The Ultimate Rolling Stones in the Lodge Room.

Continue Reading... No Comments.