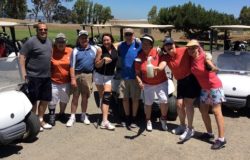 Posted on June 26, 2016 by Elks Admin in Uncategorized.

We had such a great time yesterday at the Alameda Elks Annual Golf Outing at the Chuck Corrica Golf Club in Alameda. Forty of us had fun in the sun and on the links. There were a lot of great shots (and a few missed ones). We had contests. We had prizes. Most of all, […]

Continue Reading... No Comments.