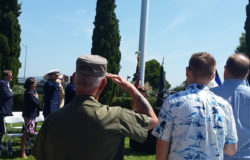 Posted on May 30, 2016 by Elks Admin in Uncategorized.

It is always a special time for Elks on Memorial Day as we remember our fallen brothers and sisters who made the ultimate sacrifice to preserve our freedom. Over 400 people gathered to pay their respects at Alameda Veterans Memorial Park. USCG Chief and Alameda native Patrick Harris was the keynote speaker. We were joined […]

Continue Reading... No Comments.