Wonderful Night at I Do I Do!
Last weekend , the curtain rose for the Alameda Elks Lodge production of I Do I Do!.  Attendees on Saturday night enjoyed a wonderful dinner, followed by a night of outstanding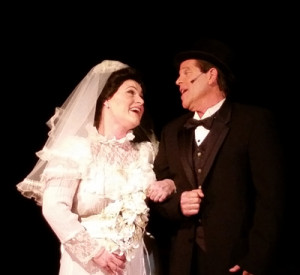 performances by our very own Heather & Lee Watson.  For anyone who was there, it was like attending a Broadway show, with Broadway actors . . . and absolutely everyone had a front row seat.
If you missed out on the fun last weekend, you still have two more chances to see the show this coming weekend on Friday and Saturday nights.  Buy your tickets now before they sell out completely.  The final performance will be on Saturday, February 13th.
As with all Alameda Elks Theater events, I Do, I Do! is open to the public.  Bring your friends.  Buy tickets together.  Have a great dinner and then enjoy a wonderful production from a few feet away.  It's also a chance to see the historic Alameda Elks Lodge up close.