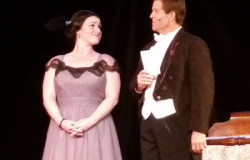 Posted on February 9, 2016 by Elks Admin in Uncategorized.

Last weekend , the curtain rose for the Alameda Elks Lodge production of I Do I Do!. Attendees on Saturday night enjoyed a wonderful dinner, followed by a night of outstanding performances by our very own Heather & Lee Watson. For anyone who was there, it was like attending a Broadway show, with Broadway actors […]

Continue Reading... No Comments.