Another great breakfast at the Elks Lodge!
There's no more fun way to begin a Sunday than to have a great breakfast with friends, while welcoming distinguished guests!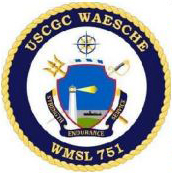 On January 10, the Alameda Elks welcomed the Commander and crew of the USCGC Waesche, homeported in Alameda, Ca.    The USCGC Waesche, is a Legend-class cutter, the second longest of all U.S. Coast Guard cutters.  Cutters like the Waesche are envisioned by the Coast Guard as being able to undertake the entire range of the High Endurance Cutter roles such as intercepting suspect vessels, or for rescuing swimmers, fishery protection, maritime homeland security missions, counter terrorism, or coastal patrol missions.
We were honored to welcome Captain Robert Hendrickson, who gave a presentation recapping the latest deployment of the Waesche to the Arctic Ocean.  After his presentation, Capt. Hendrickson presented a placque to Alameda Elks Grand Exalted Ruler Dean Seaquist in appreciation of the generous support of the Alameda Elks.
Oh, . . . and we had a GREAT breakfast too!  Fresh made omelettes, Eggs Benedict, thick-sliced bacon, biscuits & gravy and much more were served.  We have our breakfast once a month on Sundays.  We usually have guest speakers but we always meet as friends to chat and catch up over breakfast.  If you're not a member of the Elks, consider joining so you can take part in the fun too!