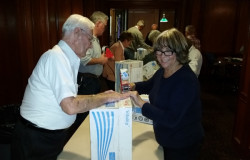 Posted on January 29, 2016 by Elks Admin in Uncategorized.

The Alameda Elks came together last night to fill, pack, and wrap SIXTEEN boxes of snacks, magazines and personal items for our active duty military personnel overseas. The boxes will be delivered to personnel on active duty in Djibouti, in the South China Sea and aboard the USCG Cutter Berthold (Remember them from our recent […]

Continue Reading... No Comments.