Veterans Day Dinner was a Great Success
The crowd was great! The music was great! The decorations were great! The food was great! The police were great! and the guest speaker was great.  There was a lot of patriotism and everyone had a great time!
The Veterans Day Dinner sold out this year four weeks before the event, however, we were able to accommodate everyone on the waiting list. The lodge room was patriotically decorated with state and military flags and the food  was excellent, on time, and hot. This year we had the Jazz Ensemble from the 191st U.S. Army Band stationed at Camp Parks entertain us with music before and during dinner. We had many Elks who are veterans in attendance, as well as, 36 active duty military guests all of whom were introduced and thanked for their service. There were also six mothers in attendance from the local chapter of the Blue Star Moms who all had sons who were on active duty.  A contingent of five City of Alameda Police officers, headed by Chief Paul Rolleri presented a donation of $4,000 for the Lodge's Veterans programs.   Also, in attendance were Mayor Trish Spencer and Council members Jim Oddie and Marilyn Ashcraft.
Vice Admiral Charles Ray, U.S.  Coast Guard, the Pacific Area operational commander of all Coast Guard missions within half of the world ranging from the Rocky Mountains to the waters off the East Coast of Africa and concurrently serving as the Commander of Defense Forces West providing Coast Guard missions to the Department of Defense. He is an impressive individual who was down to earth and very friendly making an conscious effort to visit and meet everyone. His remarks were equally impressive and right on the mark. It was quite apparent why he is a three star flag officer and the second highest ranking officer in the United States Coast Guard. It was an honor to have him as our speaker.
We had a raffle to support our overseas package program as well as other programs and services to support our veterans. Again, the members and guests were very generous including the Alameda Navy League which also made a donation. Chris Cormier once again did a superb job running the raffle and we raised over $1,300 which will go directly to providing packages for troops in Afghanistan and Africa, as well as, sailors on deployed Coast Guard cutters. This plus the donations from the Police, Navy League, and other individuals, raised a total of $5,502 to support our Veterans programs. A sample care package was on display at the entrance to the lodge room. We also helped the Marines kick off their Toys for Toys Drive . David Cortez, a new member and the First Sergeant for the Fourth Reconnaissance Company, is the Toys for Toys Coordinator for Alameda and Contra Costa Counties and we helped him by requesting toys to be brought in and we almost filled two bins.
Again this year,  due to the generosity of the members who purchased extra tickets and donated them to host our active d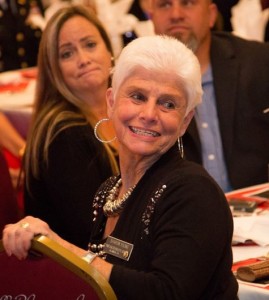 uty military guests we were able to provide dinners and drinks for all our guests without going into the budget. We would like to thank the following who donated tickets: Mike Anderson, Norma Jean Carey,  Larry Cerqueira, Larry Fukuba, Dan Hall III, Dan Hall IV,  Bruce Hanley, Trudy LaFlamme,  Diana Lulofs,  Patty McCall, Gene Maurice,  Madlyn Murphy, Nick Pereira, Debbie Peretto, Steve Post, Victor Quintell, Dean Seaquist, Wayne Westover and Sharon Young.
Special thank you to Gary Randle and Rich Ghera for the use of their state and military flags. Also, to Cathy Boggs for designing the posters and flyers, as well as, putting together the program and printing all of the flyers and programs. Thank you to Roy Stout and Diane Prior Stout for figuring out and doing all the seating assignments. John Lathbury for printing the name tags and Barbara Rosenberg for sorting and issuing the tags. Cece Pereira, Sharon Young, Debbie Peretto, Trudy LaFlamme, Ron and Jan Curtis, and Bill Darling for setting up and decorating the tables. Tom Farris for video support,  Greg Carlson for checking the sound system, Deanie Donato for printing the tickets, Pete Fox, Gary Randle, and Rich Ghera for hanging and removing the flags, and Bill Lawrence for doing last minute purchases and dealing with elevator issues. Chris Cormier for doing the raffle and Diane Prior Stout, Dan Hall IV, and Ed McLean for selling raffle tickets, and Lyn Lathbury, Lorna Mae Devera, Sharon Young, and  Madlyn Murphy for soliciting donations. Finally, to all the members of the Veterans Committee and those others who pitched in; your assistance and support was greatly appreciated!
We would like to thank all those Veterans who provided their names and service affiliation so that we can identify all the veterans. If you were not on the list in the Doings or the Veterans Day dinner program, please email Veterans@alamedaelks.org or call Nick Pereira (510-522-1498) as we would like to honor all our veterans in future Veterans Day and Memorial Day events. Note: the following veterans have been recently added to the list:  Ronald Cutting – Army, James Blamire -Navy, and Dale Wright – Navy.
Also, remember to support the Marine Corps Toys for Tots Drive. Bins are located in the Mahogany Room to collect toys and there is a donation can if you prefer to give cash to purchase toys.
Again, thank you for your generous support of the Veteran Day dinner. It was greatly appreciated and just to let you know we are already working on next year event.
Many of the photographs in this article  and the slide show were provided courtesy of Clayton Mitchell Photography.  If you would to review or even purchase photographs of this inspiring evening, please visit Clayton Mitchell Photography at this link.
Don't forget to buy your tickets for next year's Veterans Day Dinner early.  It will be another sellout!