Join us for a Members' Thanksgiving Potluck Dinner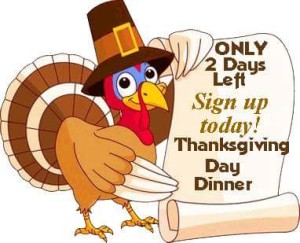 We still have plenty of room at our Thanksgiving Potluck Dinner table!
Why fuss with cooking a whole meal?  Bring a dish (to feed 10 people) and let's spend Thanksgiving together at the Alameda Elks Lodge with other Elks members.  Why argue with your relatives when you can argue with friends?
We still have openings for appetizers, breads and salads.  Check out the sign up board in the Alameda Elks Lodge Lobby.
11:00am         Mahogany Room Bar Opens
 2:00pm         Thanksgiving Cocktails Begin
 3:00pm         Dinner is Served!
It's shaping up to be one, tasty dinner!